Welcome Everyone!
Here at Barboursville we strive to be Christ centered, people focused, and Bible based. Our fundamental understanding of who God is and what He expects from us comes from the Bible. We still
believe
the Bible to be a relevant and life changing message from God and we strive to be a community of believers that is characterized by our family environment and love for one another. Our mission is to grow in the grace and knowledge of our Lord and Savior Jesus Christ. We believe the closer we conform to God's will, the greater our personal happiness and joy will be.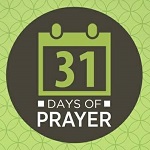 31 Days of Prayer
Join us during the month of March as we focus on our communication with God through prayer. Please use the Contact Us page to submit any special prayer request you may have. We would love for you and your family to join us in study and worship!